MAJOR AIRPLAY ON ABC & ESPN
* GRAB THE FREE DOWNLOAD of "FOREVER" *
Debut Album Out Now
"…sonic hum of synthetic electro bass, acoustic guitar and soft, fluid vocal….Six60 plan to rock you into a new here and now…"
--- BRISBANE TIMES
"Lending rock with dubstep and other electronic sounds du jour. "Forever" reveals the group's soulful side and innovative combination of musical styles."
--- RCRD LBL
"Last night I went along to the HMV Forum to check out Six60′s
first London gig. I was there to witness, well, history in the making. For those of you who don't know whoSix60 are, you will soon enough! They were electric! EVERYONE was singing along. EVERYONE was happy. It was a wonderful moment. A true celebration of their first London gig. For a debut it doesn't get much better."
--- WHO IS SCOUT UK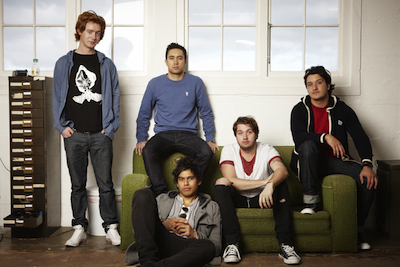 New Zealand's own cross-genre powerhouse Six60 will head full speed into North America in support of their self-titled release this coming October. Six60's North American tour will bring them to major cities such as Boston, Vancouver, San Francisco, Brooklyn and more. Already gaining huge success in their homeland, the group is ready to take on the rest of the world with their unique blend of soul, rock, dub step and drum and bass.
The band's infectious track "Forever" was featured on
ABC & ESPN
throughout Memorial Day Weekend in the Indie 500 special. You can check out the video
here!
Opening with gorgeous vocals, mixed with silky and harmonious guitars, "Forever" picks up with hammering beats and layered synths that will make your jaw drop. Six60's music is versatile and vibrant, as their explosive guitars, thick beats and fierce vocals fill each inch of the room with pure and utter perfection. From heavy hitters like "Get," to the hypnotic track "Run For It," that channels Miike Snow, Six60 prove there is nothing they can't accomplish. Slick guitar riffs accompany smooth vocals to create music that will not only intrigue you, but become an instant favorite.
Six60 Live and Massive… coming to a city near you…
TOUR DATES WITH TICKET LINKS:
Tuesday, October 2: Bellingham WA – The Roost
Wednesday, October 3: Vancouver BC - The Railway Club
Thursday, October 4: Portland OR - White Eagle Saloon
Saturday, October 6: San Francisco CA - Hotel Utah
Sunday, October 7: Silverlake CA - The Bootleg
Wednesday, October 10: Brooklyn NY - Union Hall
Thursday, October 11: Fairfield, CT – Stage One
Friday, October 12: Hartford CT - Arch Street Tavern
Sunday, October 14: Boston MA - The Great Scott
Sunday, October 21: Toronto ON - The Rivoli