Announces European Dates with Death Cab For Cutie
"...one talented musician. His no frills style of performance allow his stories to take the spotlight, backed by simple, well-crafted melodies on stripped down instrumentation...definitely a hidden gem."
- The Fader
Watch the Video for "Alpha Street West" at Vimeo
(Available to Post)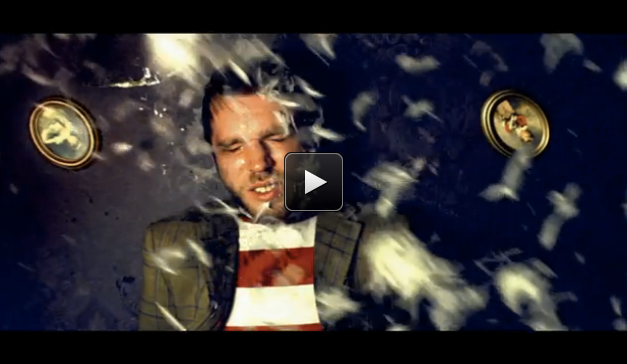 Manchester UK artist
Butcher The Bar

(aka

Joel Nicholson

) has debuted a brand new, gravity-defying video for "Alpha Street West," taken from his newest Morr Music release,
For Each A Future Tethered

.

The video comes just in time for a European tour with select dates supporting Death Cab For Cutie. Ben Gibbard first discovered Nicholson's songs earlier this year and started recommending them on the band's Twitter. A few months later he asked Nicholson to join them on the road
.


Butcher The Bar gave us insight into his deepest thoughts three years ago with his debut,

Sleep At Your Own Speed

, an album that dealt with the uncertainties of growing up - recorded in the intimate light of his bedroom.
In
For Each A Future Tethered
he shares his personal story with wispy serene vocals and creative arrangements. There is a wider range of musical accompaniment, with the inclusion of trumpets, clarinets, harmoniums and pianos, resulting in a richer, more developed sound. The music is somewhat reminiscent of label mates
Seabear,
but his earnest songwriting is true to the tradition of great songwriters like
Nick Drake, Paul Simon
and
Elliott Smith
.
Butcher The Bar in Concert
10-22 - Andenne, Belgium - Centre Culture
10-24 - Magdeburg, Germany - Riff
10-24 - Magdeburg, Germany - Riff
10-25 - Dresden, Germany - Thalia
10-26 - Göttingen, Germany - Apex
10-27 - Krefeld, Germany - Kulturrampe
10-28 - Hamburg, Germany - Uebel & Gefaehrlich
(w / Stankowski)
10-29 - Erfurt, Germany - Franz Mehlhose
(w / Stankowski)
10-30 - Berlin, Germany - HBC
(w / Stankowski)
10-31 - Leipzig, Germany - Werk 2
(w / Stankowski)
11-01 - Offenbach, Germany - Hafen 2
11-02 - Munich, Germany - Feierwerk
(w / Stankowski)
11-03 - Stuttgart, Germany - Universum
(w / Stankowski)
11-04 - Lucerne, Switzerland - Treibhaus
(w / Stankowski)
11-05 - Schaffhausen, Switzerland - Tab Tab
11-06 - Osimo , Ancona, Italy - Loop Club
11-08 - Florence, Italy - Glue
11-12 - Luxembourg City, Luxembourg - Den Atelier
(w/ Death Cab For Cutie)
11-13 - Cologne, Germany - E- Werk
(w/ Death Cab For Cutie)
11-16 - London, England- Hammersmith Apollo
(w/ Death Cab For Cutie)
11-17 - Leeds, England - Academy
(w/ Death Cab For Cutie)
11-18 - Birmingham, England - Birmingham Ballroom
(w / Death Cab For Cutie)
11-19 - Glasgow, Scotland- Academy
(w/ Death Cab For Cutie)
http://www.myspace.com/butcherthebarband