NPR First Watch Premieres New Mates of State Video For "Palomino"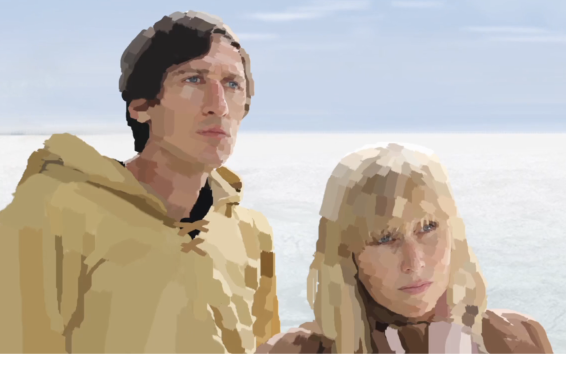 Today, NPR First Watch premieres the newest music video for the infectiously catchy Mates of State song "Palomino," from their newest album Mountaintops. The video is entirely animated, featuring stairways to heaven, lions, karate fighters, and much, much more. Click on the link below to watch the incredible video on NPR First Watch:
The brand-new Mates of State album Mountaintops was recently released on September 13 via Barsuk Records. Mountaintops is the band's newest album since 2008's critically acclaimed Re-Arrange Us. The self-produced album was written and recorded over the last year and a half in 6 different studios with multiple different engineers. Rolling Stone praised the album, saying that, "Mountaintops... finds [Mates of State] going further than ever with electronic textures without sacrificing the warmth and classic melodicism of their earlier work."
In support of
Mountaintops
, Mates of State will be doing a number of tour dates across the United States. Starting on September 21, the band will tour the East Coast, kicking off at D.C.'s 9:30 Club and playing through November 21, where they will play Cleveland's Beachland Ballroom just in time for Thanksgiving,
Along the way, the band will be visiting such historic venues as New York City's Webster Hall and Los Angeles' Music Box. The first leg will be supported by Suckers, Yawn, and Other Lives, and the second by Generationals. For a full list of tour dates, please see below.
Mates of State U.S. Tour Dates
9/21 - Washington DC - 930 Club *#
9/22 - Cincinnati, OH - Mid Point Music Festival
9/23 - Pittsburgh, PA - Mr. Smalls *#
9/24 - Philadelphia, PA - Popped Festival
9/26 - Boston, MA - Royale *#
9/27 - Montreal - Il Motore *#
9/28 - Toronto - Phoenix Concert Theatre *#
9/29 - Detroit - St. Andrews *#
9/30 - Chicago - Metro *#
10/1 - Columbus, OH - Newport Music Hall %#
10/3 - Asheville, NC - The Orange Peel %#
10/4 - Nashville, TN - Exit/In %#
10/5 - Charlotte, NC - Visulite Theatre %#
10/6 - Atlanta, GA - Drunken Unicorn %#
10/7 - Orlando, FL - The Social %#
10/8 - Sunrise, FL - Langerado Festival
10/10 - Richmond, VA - Canal Club %#
10/11 - Baltimore, MD - Ottobar #%
10/12 - New York, NY - Webster Hall %
10/26 - Birmingham, AL - WorkPlay Theatre $
10/27 - Tallahassee, FL - Club Downunder $
10/28 - New Orleans, LA - Voodoo Festival
10/30 - Little Rock, AR - Revolution Music Room $
10/31 - St. Louis, MO - The Firebird $
11/01 - Tulsa, OK - Cain's Ballroom $
11/02 - Dallas, TX - Granada Theater $
11/04 - Houston, TX - Fitzgerald's $
11/06 - Austin, TX - Fun Fun Fun Fest
11/07 - Tucson, AZ - Plush $
11/08 - Los Angeles, CA - The Music Box $
11/09-11/11 - Las Vegas, NV - Book & Stage @ The Cosmopolitan
11/12 - Salt Lake City, UT - Urban Lounge $
11/13 - Denver, CO - Bluebird Theater $
11/15 - Kansas City, MO - Record Bar $
11/16 - Omaha, NE - The Waiting Room $
11/17 - Iowa City, IA - Blue Moose $ @
11/18 - Minneapolis, MN - Fine Line Music Café $
11/19 - Milwaukee, WI - Turner Hall Ballroom $
11/21 - Cleveland, OH - Beachland Ballroom $
* w/ Suckers
# w/ Yawn
% w/ Other Lives
$ w/ Generationals
@ w/ Ra Ra Riot
Mountaintops track list:
2. Maracas
10. Mistakes