Chateau Marmont
Kicks Off North American "Voulez-Vous?" Tour

Offers Sneak Peek of Forthcoming 2012 Full-Length LP
"a Parisian electropop dream team [that] gives us plenty to smile about" - MTV
"
If there was any doubt in your mind that motorik space-disco was alive and well, Parisian quartet Chateau Marmont will certainly assuage such notions.
"
- XLR8R
Parisian futuristic-pop
Chateau Marmont
are kicking off their North American "
Voulez-Vous
?" tour this weekend with folk-pop foursome
Revolver
including scheduled appearances at the
CMJ Music Marathon 2011
. In celebration of the tour the band has offered a preview of their forthcoming 2012 album with the single "
Receive and Follow
." Chateau Marmont made their US touring debut this past spring, which featured several well-received
SXSW '11
performances. The band will be performing songs from their full-length debut,
2008-2009-2010
, as well as songs from their forthcoming full-length album due out in early 2012.
Chateau Marmont's single "
One Hundred Realities
" from
2008-2009-2010
was recently featured as
AOL Spinner's daily Free mp3."
Their
C-M-X Mixtape
of rare electro songs, in addition to exclusive edits of rare disco tracks was featured in
Black Book
and their track "
Nibiru
" was included in
Wired Magazine's Spring Playlist
. Check out their
MTV Iggy video interview
to learn more about the band's inception and be sure to see them live this fall.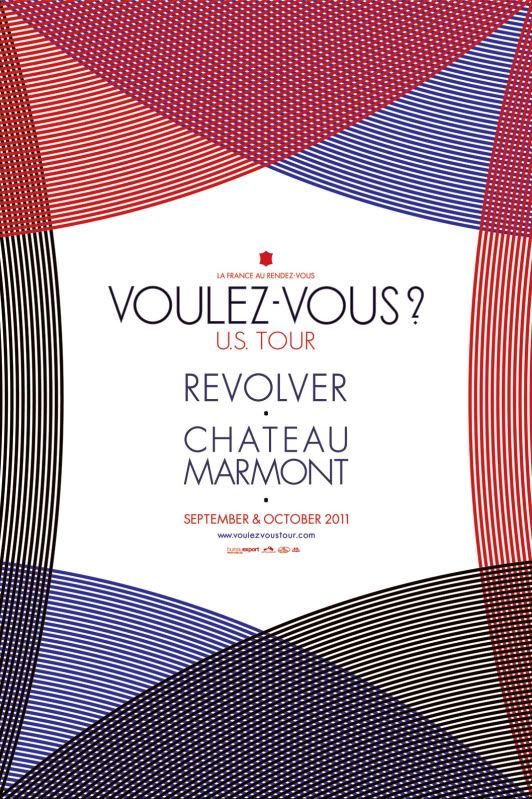 Chateau Marmont Live in Concert w/ Revolver

9/24 - Vancouver, BC - Media Club
9/26 - Seattle, WA - Sunset Tavern
9/27 - Portland, OR - Mississippi Studios
9/29 - San Francisco, CA - Bottom of the Hill
9/30 - Visalia, CA - Cellar Door
10/1 - Los Angeles, CA - El Rey Theatre
10/3 - San Diego, CA - The Casbah
10/4 - Phoenix, AZ - Rhythm Room
10/5 - Albuquerque, NM - Launchpad
10/6 - Dallas, TX - Prophet Bar
10/7 - Austin, TX - Mohawk
10/8 - Houston, TX -Fitzgerald's
10/10 - Atlanta, GA - The Earl
10/11 - Nashville, TN - 3rd & Lindsley
10/12 - St. Louis, MO - Firebird
10/13 - Chicago, IL - Schubas
10/14 - Cleveland, OH - Grog Shop
10/15 - Pittsburgh, PA - Smiling Moose
10/16 - Toronto, ON - Horseshoe Tavern
10/17 - Montreal, QC - La Sala Rossa
10/18 - Boston, MA - TT The Bears