"Here's something to enliven the forlorn Goth/industrial camp in the meantime: Ex-NIN guitarist, the German-bred Ralf Dietel, has his own Hollywood-based outfit called KRASHKARMA and they're as heavy as molten lead on a sinister debut dubbed Straight To The Blood…"
-SF Examiner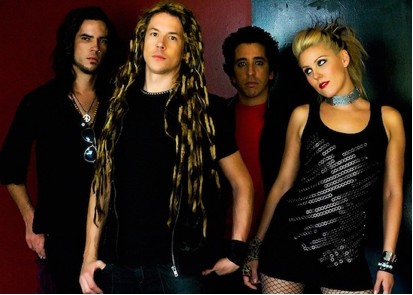 Watch the Video for "TAKE THE MONEY"
(Approved to Embed and Post)
See the Premiere on Bloody Disgusting
On a dark Halloween night in Las Vegas, hard rockers, KRASHKARMA, took to the streets to cause a little mayhem of their own. The band has just released their first video from their new album Straight to the Blood, which is like watching a breaking news story unravel.
Titled "Take the Money," which premiered yesterday afternoon on Bloody Disgusting, the video was shot straight up Gorilla style. Believe us when we say you will feel like you are right in the middle of the action. Surveillance cameras and all.
Armed with replicas of shot guns and M16s (without permits!), KRASHKARMA took to the Las Vegas strip to cause a ruckus. As everyone would seemingly be in costumes because it was Halloween, the band tried their best not to get arrested…which almost turned out to be a failed plan. Frightened onlookers in the Casino didn't know what was happening as front man Ralf Dietel and drummer/co-vocalist, Niki Skistimas raided the place with guns and a suitcase full of money in hand. Security personal threatened to call the cops on the band, when the band had guns in hand and money on the ground, in belief that it was a real getaway. Mission accomplished.
Straight to the Blood is an album full of addictive melodies and provocative lyrics bring that bring every song to life as you feel every thump and beat throughout This unique band really brings things to a whole new level on the musical horizon. From thick and heavy guitars from Dietel, to the energy filled drumming and smooth but powerful voice of Skistimas, KRASHKARMA is a force that cannot be reckoned with. Mixing alternative, rock, metal, and electronica all in one package, you will be hooked immediately and craving more.
10/27 in Joplin, MO at Kitchen Pass
10/28 in Tulsa, KS at Downtown Lounge
10/29 in Topeka, KS at Kansas Grill
10/31 in Tulsa, OK at Ol Memorial Lounge
11/3 in Beatrice, NE at Gibb's Place
11/4 in Omaha, NE at Shamrocks Pub
11/5 in Sioux Falls, SD at Boonies Bar
11/11 in Colorado Springs, CO at Union Station
11/12 in Littleton, CO at Toads Tavern
11/17 in Albuquerque, NM at Low Spirits (acoustic)
11/18 in Albuquerque, NM at The Gasworks
11/20 in Dallas, TX at 2826 Arnetic
11/23 in Houston, TX at TBA
11/24 in Austin, TX at Headhunters
11/25 in Broussard, LA at The Station
11/26 in Baton Rouge, LA at Northgate Tavern
11/27 in New Orleans, LA at Siberia
11/28 in Pascagoula, MS at The Celtic