NEW ALBUM "COLOUR TRIP" OUT NOW!
"
Colour Trip
is one of my favorites of 2011"-Brooklyn Vegan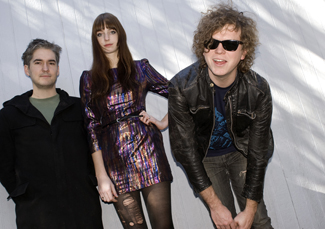 Austin, TX trio Ringo Deathstarr has announced a U.S. and Canadian headlining tour for this summer as well as a West Coast stint supporting Trail Of Dead. The band who recently released their full-length record Colour Trip (Sonic Unyon/AC30) in March has just returned from a tour of Japan which was preceded by a European run. However the band have not toured the U.S. since the album's release, though they did play a whopping twelve plus shows at SXSW which was championed by such outlets as NPR who included the band in their SXSW preview as a band they can't wait to see and Wired Magazine who proclaimed Ringo a "Must Hear Band." The band will be doing headlining dates from June 25th in Minneapolis and will hit the East Coast and parts of Canada routing back to Texas for mid July.
On the press front, the band is also drawing rave reviews across the board (a sampling of quotes follow).
TOUR DATES BELOW
More info at:
http://www.myspace.com/ringodeathstarr
QUOTES:
Chrome Waves - "Loud, fuzzy and fun,"
CMJ on Colour Trip- "an interesting indie-pop/lo-fi contrast that's addressed in every distortion-soaked, echoing track."
The Austinist -"Ringo Deathstarr's debut LP is a well-made, effects-laden enfilade of melody and noise."
My Old Kentucky Blog - "At heart, Ringo Deathstarr is a tremendous pop band, perhaps ready to rival Belle and Sebastien."
Wired- "The band sounds like it leaped screaming out of My Bloody Valentine's blown amps" .
Street Boners- "Is it possible to wear out your YouTube player to the point that it starts skipping, because that's how many times I've spun this video for "So High."
NME- "It's a shame we do not live in a world in which Ringo Deathstarr is the name of Liam Gallagher's new band."
Date City Venue
June 4th Austin, TX Red 7 Chaos in Tejas
June 12th El Paso, TX Lowbrow Palace
June 14th Pomona, CA Glasshouse (WITH TRAIL OF DEAD)
June 15th San Diego, CA Casbah (WITH TRAIL OF DEAD)
June 16th Los Angeles, CA Echo Plex (WITH TRAIL OF DEAD)
June 17th San Francisco, CA Great American Music Hall (WITH TRAIL OF DEAD)
June 19th Portland, OR
Doug Fir (WITH TRAIL OF DEAD)
June 22nd Seattle, WA Neumo's (WITH TRAIL OF DEAD)
June 25th Minneapolis, MN Hexagon Bar
June 26th Milwaukee, WI Cactus Club
June 27th Chicago, IL The Darkroom
June 28th Windsor, ONT (CAN) Phog Lounge
June 29th Hamilton, ONT (CAN) This Ain't Hollywood
June 30th Toronto, ONT (CAN) The Garrison
July 1st Montreal QC (CAN) Casa Del Popolo
July 2nd Boston, MA Middle East Upstairs
July 3rd Brooklyn, NY Shea Stadium
July 4th Baltimore, MD Golden West Cafe
July 5th Richmond, VA Sprout
July 6th Asheville, NC Emerald Lounge
July 7th Atlanta, GA The 529
July 8th Tampa, FL New World Brewery
July 9th Orlando, FL Backbooth
July 11th Beaumont, TX Victoria House
July 16th Austin, TX Austin Convention Center Rollerderby