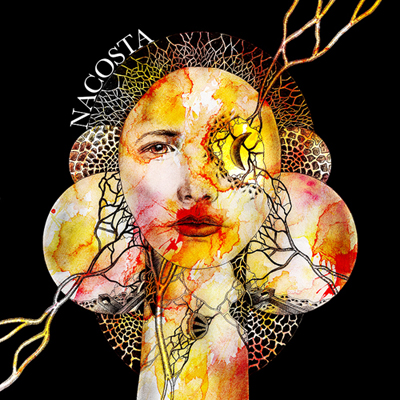 On Under The Half Moon, the men of Nacosta showcase their distinctive style of pop music, drawing from personal influences as diverse as folk, pop, prog, and electronic rock. Previously branded "psychedelic," the band is much more than that -- infusing sonic atmospherics, solid melodies and vocal harmonies with a hint of electronica.To hone their musical vision, the brothers Graham (Brandon/vocals/guitar and Shane/drums/ percussion) experimented with several bandmates since 2011, finally striking the right balance working with electronic musician and producer Christian Gibson.
Under The Half Moon reflects the best of decades of popular rock music -- "tripped-out indie with touches of folk, 60's style psych-rock and hazy 90's pop nostalgia...the trippy 'Fall Apart' would make Jim Morrison proud (Groundsounds)." "'Paradise Coughs' and "Folie a Deux' are...upbeat with jangly guitars and melodies that sound like what might happen if the Beatles were reincarnated as Pavement with samplers (Mississippi Modern)."
The album's first single, "Aberlina" is a sophisticated mix of complex textures which enhances and mirrors their video mystique. Also of importance to the group is their visual collaboration with houseafter.com's graphic artist Sheva Kafai who is responsible for all artwork, design and photography.
Nacosta embarked on a national tour with a stop at SXSW following their album release party at the Silverlake Lounge in Los Angeles; they will return there to conclude the first leg of the tour on April 11.
Under the Half Moon is available at Amazon.com, cdbaby, iTunes and nacosta.com.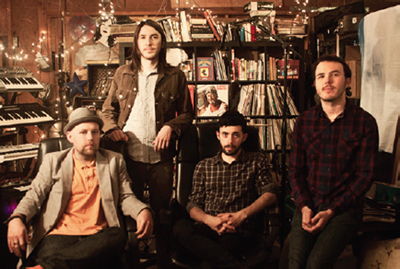 Nacosta is (L-R): Christian Gibson, Brandon Graham, Zach Bilson
and Shane Graham
For further information on Nacosta go to:
Nacosta website
Hear the album - BandCamp
Aberlina video - YouTube
Facebook
Twitter