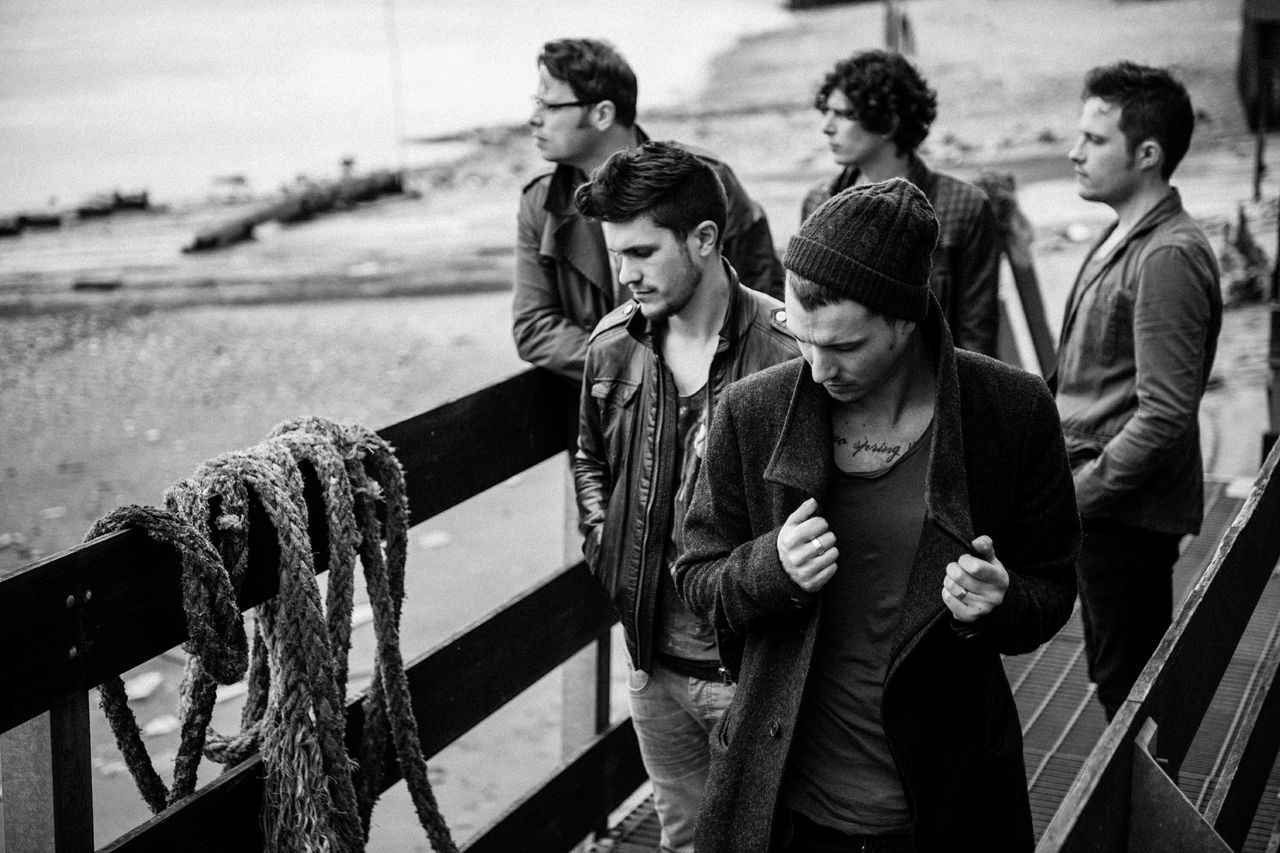 Nottingham's Falling Off Maps Are Releasing Their Debut Album, A Seaside Town in Winter Today. They're Reaching Out Across the Pond to Catch the Ears of Stateside Listeners, and That's Where YOU Come in.

Watch Their Video For the Track "Honest" off of the New Album HERE.
A Seaside Town In Winter is the name of the debut album by Nottingham five-pieceFalling Off Maps. Both the album title and band moniker were in place before a single note had been written or recorded. Before the band even existed, in fact. Falling Off Maps were a thematic concept in mind first – then music.
The phrase A Seaside Town In Winter conjures a wealth of images. Evokes such strong feelings. Of a frozen ghost town. A dead space. Of imprisonment and flight. Regret. Desperation.
"My parents live in a seaside town and in winter it becomes desperate, desolate place," says singer guitar Dave Wright. "In summer it's thriving but out of season when winter arrives the tourist flee, businesses can't survive and everything just stops. It becomes a ghost-town. A dead place. That image seemed to inspire the birth of the music and the way in which it evolved from there."
"That sort of geographic isolation and escaping from it then grew to take on multiple meaning as the songs grew with it," adds bassist Dane Prewett. "The seaside town came to represent relationships or previous band experience or other areas of our lives that we wanted to escape from."
The title set the tone for Falling Off Maps' haunted sound. It's music that elicits certain adjectives to which the band members keep returning. Solace. Hope. Intimacy. Escape. A British Seaside Town In Winter is bleak – yes, but ultimately it is uplifting too. Band and music speak of release and escape, liberation and euphoria too. Because hope always springs eternal and as sure as winter is frosted and grey, so too summer always comes back round. Life returns. You can't have the highs without the lows and as such Falling Off Maps make music that ebbs and flows. Here elegiac electro and condensed musical dramas share similar sonic space as Radiohead and Leonard Cohen, Bon Iver, Death Cab For Cutie and early Elbow.
Falling Off Maps have a rich back story. In their previous band Headway they experienced the highs and lows of an industry in flux all while still teenagers. Their first gig was with ZZ Top and they signed to a major soon afterwards, who quickly touted them as the next Coldplay. There followed a hectic period of toilet tours and prestigious support slots (amongst them Wembley Arena). When their A&R man left, Headway were dropped. Undeterred they went to the US and defied the odds when the head of Geffen signed them after hearing only one song. So the band moved to LA where they "lived the rock star dream." They played all the main LA venues, saw their songs featured on numerous TV shows…and yet their album was never released. When the president of Geffen moved on Headway were left stranded once again.
Is this entirely relevant? Well, yes. Because Headway flew close to the bright burning music biz sun and got burned. Burned but – crucially – not immolated. Just a little scorched around the edges. Just enough to make them change their flight path so that the music they make now and the way they operate is entirely informed by these eye-opening formative experiences.
When Headway announced their split in 2009, it was with an online message that mentioned that they "had fallen off the map."And so a new concept was born. Where other bands would be jaded, the five-piece were re-invigorated. They reconvened to make music for themselves. No marketing men, A&Rs or CEOs were involved. Just five friends producing themselves in a room, steadily piecing their souls and psyches back together via a set of songs written from the heart.
"This is completely at the other end of the spectrum from our previous band," says Dave. "Before, there was always a pressure to come up with the radio-friendly chorus, but as soon this started we felt liberated from all that. We're making music that is cinematic in scope. For every dark moment there is one of light. You can't wallow in bleakness entirely."
The end result: A Seaside Town In Winter. Here each song illuminates the minutiae of melancholy and peaks and troughs at its own pace. Witness the shimmering and iridescent forthcoming single 'The Redeemer," the hushed whisper in the ear of the delicate, string-laden "Honest" or choral chant on "Wolf River / The Smoking River At The Hotel Cafe."
How rare it is to hear music that is sparse and unafraid to strip it back. Rarer still to witness a band create the architecture of their own world, and then inhabit it so totally. Falling Off Maps' brilliance sits in the intimate spaces created in their minimalist musical dramas – it's there in the things they have chosen to leave out as much as what is committed to a recording.
The end result: a well of emotions. A widescreen, cinematic work. A thing of beauty.
A Seaside Town In Winter. A place you will want to re-visit time and time again.
Falling Off Maps are: Dave Wright (vocals / guitar), Dane Prewett (bass / electronics), Joe Watts (guitar), Tom Harrison (piano), Jay Wright (drums).