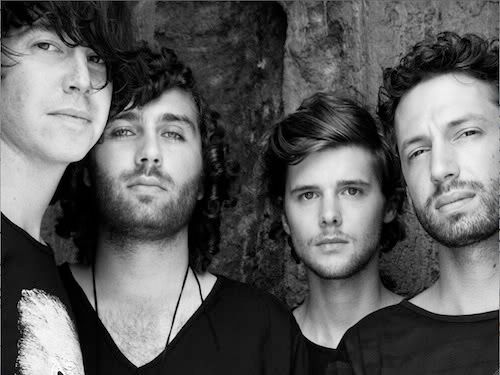 Melbourne Australia's psychedelic indie-electronic adventurers Miami Horror are pleased to announce the release of their debut, Illumination, out August 24th. The release comes at the heels of two years of teeth-cutting live shows. In conjunction with the album release, they'll be bringing their live show to the states throughout September.
While Miami Horror began as just one synthesizer-obsessed producer huddled over a laptop, mastermind Ben Plant rewired Miami Horror's genetic makeup, depositing the talents of Josh Moriarty, Aaron Shanahan & Daniel Whitechurch to form a new live band persona.
And it worked. Since the switch, Miami Horror has played unmissable sets at Australia's biggest festivals, not to mention some A-list support slot call ups for everyone from Phoenix, Friendly Fires and La Roux to a hand-picked hook up from Lily Allen.
Hunkering down in Ben's home studio in Melbourne, Illumination's recording saw them call in a cast of guest stars, including Swedish singer MAI, Melbourne based chanteuse Kimbra, Dappled Cities' wordsmith Tim Derricourt for a lyrical assist and also Neon Indian & Vega prodigy Alan Palomo, who added his distinctive haze to multiple tunes.
Be sure to take a listen to the album, streaming at www.miamihorror.com, and catch Miami Horror when they make their way stateside!
Miami Horror Tour Dates:
Fri. 9/3 - San Francisco, CA - Mezzanine
Sat. 9/4 - Costa Mesa, CA - Pacific Festival @ Triangle Square
Sun. 9/5 - Las Vegas, NV - Beauty Bar
Thu. 9/9 - Chicago, IL - Double Door
Fri. 9/10 - New York, NY - Webster Hall
Sat. 9/11 - Washington, DC - U Street Music Hall
Wed. 9/15 - Miami, FL - Liv
Thu. 9/16 - Dallas, TX - Granada Theatre
Thu. 9/16 - Dallas, TX - PM Lounge (DJ Set)
Fri. 9/17 - Austin, TX - The Phoenix
Sat. 9/18 - Santa Monica, CA - The Central